Following a wave of Zantac and generic ranitidine recalls, a Colorado man has filed a new Zantac lawsuit against the manufacturers of the heartburn medication.  The plaintiff alleges that he used Zantac for about 23 years, and as a result, developed bladder cancer.  He filed the case in the U.S. District Court for the District of Colorado and seeks compensatory and punitive damages.
Plaintiff Blames  Zantac for Bladder Cancer
According to the complaint, the plaintiff started using prescription Zantac in 1996.  In later years, he transitioned to the over-the-counter option, which he took about four times per week through 2019.  In 2018, he was diagnosed with bladder cancer.
The plaintiff believes that his cancer was caused by his use of Zantac because recent tests have revealed Zantac and generic ranitidine can be contaminated with N-nitrosodimethylamine (NDMA)—a known carcinogen.
NDMA was once used in rocket fuel production, but that was stopped after the chemical was discovered to have contaminated the environment around production plants.  It can still be formed as a byproduct of several industrial and waste management processes.
Humans may be exposed to NDMA through a variety of sources, including the air, soil, water, and some foods.  The U.S. Food and Drug Administration (FDA) has set an upper limit of 96 ng/day, but recent laboratory tests revealed that ranitidine products could have much higher levels than that.
NDMA an Impurity or Natural Byproduct?
The FDA approved the use of prescription Zantac in 1983.  In 1996, it became available without a prescription, and generic versions came onto the market a year later.  As recently as 2018, Zantac was one of the top 10 antacid tablet brands in the U.S., with sales totaling $128.9 million.
In June 2019, online pharmaceutical company Valisure, Inc. notified the FDA that it had discovered NDMA in tests of Zantac products across different manufacturers.  On September 13, 2019, the company filed a detailed petition with the FDA asking for a recall of all products containing ranitidine.
The FDA responded by alerting the public to the issue, stating that some ranitidine medicines, including Zantac, contained a "nitrosamine impurity" at allegedly low levels.  Valisure, however, asserts that this is not a case of contamination, but a result of the breakdown of the ingredients in Zantac itself.
According to the company's website,
"Valisure's research, along with that of Stanford University and others, found that NDMA was the result of the 'inherent instability' of the ranitidine molecule."
If that proves to be the case, it could mean that all forms of the medicine are putting human health at risk.
NDMA a Known Carcinogen—are Ulcer Patients at Risk?
Both the Environmental Protection Agency (EPA) and the International Agency for Research on Cancer (IARC) have classified NDMA as a probable human carcinogen.  The World Health Organization (WHO) also states that NDMA consumption is positively associated with either gastric or colorectal cancer.
In animal studies, oral administration of NDMA was found to cause kidney, bladder, liver and lung cancer.  The plaintiff also refers to a 2004 study in which the researchers found that patients suffering from gastric ulcers—which are often treated with medications like Zantac—were at a higher risk of bladder cancer compared to those who didn't have gastric ulcers.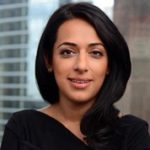 Exclusively focused on representing plaintiffs—especially in mass tort litigation—Roopal Luhana prides herself on providing unsurpassed professional legal services in pursuit of the specific goals of her clients and their families. While she handles complex cases nationwide on behalf of consumers, Ms. Luhana resides with her family in Brooklyn, New York.