A California mom recently filed a new baby formula lawsuit against manufacturers Abbott Laboratories and Mead Johnson & Company. She claims that her baby was injured after consuming formulas made by these companies.
Premature Infant Develops NEC After Consuming Cow's Milk Infant Formula
The plaintiff filed her case in the U.S. District Court for the Northern District of Illinois. She claims that her baby was born on August 10, 2005, at the Memorial Hospital in Bakersfield, California. The infant was premature. Following the birth, doctors placed the baby in the Neonatal Intensive Care Unit (NICU) and intravenously fed Similac and Enfamil.
After consuming these formulas for several days, the baby was diagnosed with necrotizing enterocolitis (NEC), a dangerous and damaging gastrointestinal disease that can be deadly.
The infant was subsequently diagnosed with cerebral palsy and failure to thrive. The plaintiff blames the infant formula manufacturers for the fact that her child suffered from NEC and seeks compensatory and special damages.
Studies Support Exclusive Human Milk Feeding for Premature Infants
The plaintiff notes in her complaint that originally, cow's milk-based products were believed to be good for the growth of premature, low-birth-weight babies. Newer research, however, has confirmed that when fed to premature babies, it can increase the risk of NEC, which can contribute to ill health and death.
She points to a 1990 study on 926 preterm infants that found NEC was six to ten times more common in exclusively formula-fed babies than in those fed breast milk alone and three times more common in those who received formula plus breast milk.
A later study found that an exclusive human milk diet was associated with significant benefits for extremely premature infants, including decreased NEC rates as well as a reduced risk of late-onset sepsis and mortality.
Several more studies have found similar results, with premature infants faring better on human milk than cow's milk formula. The plaintiff also notes that in 2012, the American Academy of Pediatrics issued a policy statement that all premature infants should be fed an exclusive human milk diet because of the risk of NEC associated with cow's milk formula.
Defendants Failed to Warn About Risks of NEC
Despite these and many other studies indicating that infant formula is not safe for premature infants, formula manufacturers have continued to advertise their products as appropriate for premature babies.
The plaintiff notes that the defendants' marketing campaigns deceive parents into believing cow's milk products are safe for premature infants, that they are equal or even superior to breast milk, and that they are necessary for the proper growth and development of preterm infants.
"This marketing scheme is employed despite Defendants knowing of and failing to warn of the extreme risk of NEC and death that cow's milk-based products pose to preterm infants" like her own, the plaintiff asserts in her complaint. She brings counts of failure to warn, strict liability, and negligence.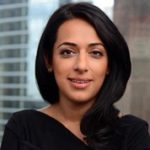 Exclusively focused on representing plaintiffs—especially in mass tort litigation—Roopal Luhana prides herself on providing unsurpassed professional legal services in pursuit of the specific goals of her clients and their families. While she handles complex cases nationwide on behalf of consumers, Ms. Luhana resides with her family in Brooklyn, New York.