Unbeknownst to service members and their families, the drinking water at Camp Lejeune Marine Corps Base in North Carolina was contaminated with toxic chemicals between 1957 and 1987.
Though the affected wells were eventually shut down, it's estimated that more than a million veterans and their families—as well as civilian staff and their families—drank and bathed in contaminated water for more than 30 years.
The Camp Lejeune lawyers at Chaffin Luhana are investigating cases in which victims who were exposed to this contaminated water later developed related illnesses and health conditions. A new bill called the Camp Lejeune Justice Act of 2022 may soon offer these victims a way to seek justice from the U.S. Government.
Tests Reveal Contaminated Water at Camp Lejeune
Warnings about potential problems with Camp Lejeune's water supply first surfaced in 1980. Water sample testing showed contamination with toxic synthetic chemicals. More tests followed in 1981, and each one carried similar warnings about contamination.
Chemicals found in the water included:
Tetrachloroethylene (PCE): a liquid solvent primarily used in dry cleaning operations, textile processing, and metal manufacturing.
Trichloroethylene (TCE): a chemical is used in many industries, usually as a solvent to remove grease from metal parts, but also as an ingredient in adhesives, paint removers, and spot removers.
Benzene: a chemical used in motor fuels, resins, oils, inks, paints, plastics, rubber, and in the manufacture of detergents, explosives, pharmaceuticals, and dyestuffs.
Vinyl chloride: used to make polyvinyl chloride (PVC), which is, in turn, used to make a variety of plastic products.
Despite warnings about the potential health effects associated with these chemicals, the U.S. Marine Corps failed to shut down the affected wells for years. They waited until 1984 to shut down one, and then closed the rest in 1985.
U.S. Government Ignores Victims for Decades
For decades after the discovery of the contaminated water, victims were ignored. It wasn't until July 18, 2012, that Congress passed the Camp Lejeune Families Act of 2012. It granted specific health benefits to any veteran who served on active duty at Camp Lejeune, North Carolina, for at least 30 days between January 1, 1957, and December 31, 1987.
Veterans and their family members were eligible for hospital care and medical services through the Department of Veterans Affairs (VA), as long as they suffered from one of a list of "approved" diseases. These included:
Esophageal cancer
Breast cancer
Kidney cancer
Multiple myeloma
Renal toxicity
Female infertility
Scleroderma
Non-Hodgkin's lymphoma
Lung cancer
Bladder cancer
Leukemia
Myelodysplastic syndromes
Hepatic steatosis
Miscarriage
Neurobehavioral effects
This law applied only to health care and not disability compensation. In January 2017, the VA published a new rule that made it easier for veterans, reservists, and National Guard members to obtain disability benefits if they suffered from one of eight diseases associated with the contaminated water.
The eight diseases included:
Kidney cancer
Liver Cancer
Non-Hodgkin's lymphoma
Adult leukemia
Multiple myeloma
Parkinson's disease
Aplastic anemia and other myelodysplastic syndromes
Bladder cancer
Too Many Claims Denied While Victims Can't Find Justice
Despite these laws, many veterans and their families have found it difficult to obtain benefits for their Camp Lejeune-related healthcare.
Investigations by news organizations, including CBS News, found that most claims are denied for a variety of reasons. These may include:
Lack of certainty regarding qualified service
Uncertainty surrounding positive disease diagnosis
Incomplete or faulty claim preparation
Victims' attempts to find justice have also failed for a couple of reasons. First, the Feres doctrine prohibits all claims on behalf of servicemembers against the federal government based upon service-related conditions and injuries.
Second, since the contamination was found decades ago, the statute of limitations on legal claims has run out. Around 850 Camp Lejuene lawsuits were consolidated into multidistrict litigation in 2011 in the Northern District of Georgia. But in 2016, U.S. District Judge Thomas W. Thrash dismissed them all, ruling that North Carolina's 10-year statute of repose (like a statute of limitations) applied to the plaintiff's claims.
Victims May Finally Find Compensation Through the Camp Lejeune Justice Act of 2022
The Camp Lejeune Justice Act of 2022 was passed in the U.S. House of Representatives on March 3, 2022. At the time of this writing, it had moved on to the U.S. Senate for approval.
Should this bill become law, those who were exposed to contaminated drinking water for at least 30 days between August 1, 1953, and December 31, 1987, will be granted a two-year window to file claims for damages against the United States Government.
The bill will also allow the representative of a person who was exposed to the contaminated water and later passed away due to conditions developed as a result of that exposure to file a claim.
A Chaffin Luhana Camp Lejeune water contamination lawyer can help ensure you receive the benefits to which you are entitled.
Check back on this blog. We'll inform you when the new bill is passed.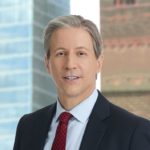 Exclusively focused on representing plaintiffs, especially in mass tort litigation, Eric Chaffin prides himself on providing unsurpassed professional legal services in pursuit of the specific goals of his clients and their families. Both his work and his cases have been featured in the national press, including on ABC's Good Morning America.