After suffering losses in three key Roundup cancer lawsuits, manufacturer Bayer recently announced its plans to investigate an alternative to glyphosate, the main herbicide in Roundup.
In a June 2019 statement, the company revealed that it would invest about 5 billion Euros "in additional methods to combat weeds over the next decade." Those funds will be allocated to research and development "to develop holistic solutions that match growers' needs."
Bayer added that glyphosate "will continue to play an important role in agriculture and in our portfolio."
Glyphosate Becomes Leading Herbicide Worldwide
Glyphosate was patented by Bayer's subsidiary, Monsanto, in the early 1970s. Roundup, which contains glyphosate as its key ingredient, came onto the market in 1974. It quickly became one of the bestselling herbicides available.
Glyphosate works by preventing plants from making certain proteins needed for growth. It is non-selective, meaning it will kill most plants. That is why in the early 1980s, Monsanto invested in developing "Roundup Ready" crops, which are genetically engineered to allow them to withstand the application of glyphosate. Also called "glyphosate-tolerant" crops, they made it easier for farmers to widely apply Roundup to kill weeds.
The glyphosate patent expired in 2000, after which a number of other companies developed products containing glyphosate. According to a 2016 study, since 1974, over 1.6 billion kilograms of glyphosate have been applied to crops, with two-thirds of that total volume sprayed in just the last 10 years.
Globally, glyphosate use has risen almost 15-fold after so-called "Roundup Ready" genetically engineered glyphosate-tolerant crops were introduced in 1996. These genetically engineered crops now account for over half of global glyphosate use.
Meanwhile, concerns about the safety of this herbicide have been growing.
Debate Continues on Potential Safety Risks of Glyphosate and Roundup
As early as 1999, researchers started connecting the use of glyphosate to non-Hodgkin's lymphoma (NHL), a type of cancer that starts in the white blood cells and travels through the body's lymph system. Other studies followed, and now we have several indicating that glyphosate and Roundup exposure increase the risk for human health problems, particularly NHL.
Other studies, however, have produced conflicting results. In 2015, the IARC announced their new classification of glyphosate, stating there was "limited evidence of carcinogenicity in humans for non-Hodgkin lymphoma." In 2017, the California State Office of Environmental Health Hazard Assessment (OEHHA) named glyphosate as a chemical that can cause cancer.
But the U.S. Environmental Protection Agency (EPA) has maintained that glyphosate, when used as directed, is safe.
Juries Favoring Plaintiffs in Roundup Lawsuits
So far, three juries have decided in favor of the plaintiffs finding that Roundup is linked to NHL cancer generally and caused the plaintiffs' cancer in the individual cases. In the most recent case, a California jury awarded the plaintiffs over $2 billion in damages after they claimed to have developed NHL from years of exposure to Roundup.
Monsanto and Bayer face another over 13,000 Roundup lawsuits pending in courts around the country.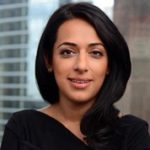 Exclusively focused on representing plaintiffs—especially in mass tort litigation—Roopal Luhana prides herself on providing unsurpassed professional legal services in pursuit of the specific goals of her clients and their families. While she handles complex cases nationwide on behalf of consumers, Ms. Luhana resides with her family in Brooklyn, New York.